Cupping is a traditional medicine with its origins in China and the Middle East. Using a vacuum suction and creating negative pressure, cupping pulls the skin and fascia, improving blood circulation to targeted areas which has been shown to reduce inflammation and pain.
Other conditions treated through cupping:
Arthritis
Asthma
Irritable Bowel Disease (IBD)
Migraines and headaches
Hypertension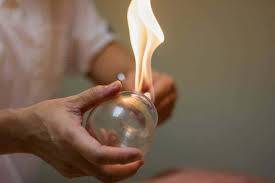 How is the cupping treatment performed?
There are two distinct techniques in the delivering of cupping treatment, dry cupping, and wet cupping.
Depending on the treatment, your trained therapist may place multiple cups on your skin. Cupping methods include:
Dry: The therapist will apply oil to the skin, and apply and move the suction cup to the affected area.
Wet: The therapist will lightly puncture the skin, before, and sometimes after the cupping. Toxins will escape the body through these small puncture wounds.
For more information about our cupping treatment, or to find out if cupping is right for you, please book an initial consultation at our Bankstown clinic by calling 02 8123 0183, or book online.
Advanced Health Medical & Dental Centre is a Medicare CDBS provider, and accepts all major health funds: