Dentists and doctors at Yagoona Medical Centre
If you are living in the Yagoona area, and in need of a doctor, dentist or medical centre, then you'll be happy to know that there is a medical centre in your area.
Advanced Health Medical Centre is just a quick 8-minute drive away from Yagoona, so you contact us at 02 8123 0183, or visit us in Bankstown.
The quickest route from Yagoona to Advanced Health Medical Centre is along William Street, and then left into Marion Street, and right again at Oxford Street, left into Brandon Avenue, right at Chapel, and left into Macauley. Advanced Health Medical Centre is located in the Flinders Centre, at 25 Restwell Street, Bankstown. There is plenty of parking on site, or at the sports club, and we're open Monday to Friday 8am -6pm, and Saturdays from 8am to 1pm.
If you are looking for a Yagoona Medical Centre, then Advanced Health Medical and Dental Centre is your best bet.
We offer the following Medical Services:
Dental Care
General Practice
Skin Care
Family Health
Sexual Health
Podiatry
Orthotics
Weight Loss
Hair Loss
Hearing
Advanced Health Medical Centre
Flinders Centre. Ground Floor
25 Restwell Street, Bankstown
NSW 2200
General Enquiries
This form is monitored periodically during business hours. Please use this form for general enquiries only. If you are in an emergency, DO NOT use this form - call 000. For bookings, please call 02 8123 0183.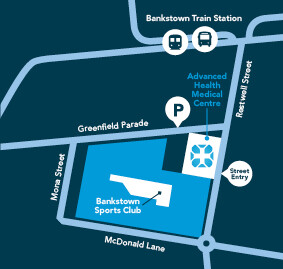 Getting to Advanced Health Bankstown
Advanced Health Medical Centre is located on the ground floor of the state-of the art Flinders Centre, adjacent to the Bankstown Sports Club and Travelodge Hotel on the corner of Restwell Street and Greenfield Parade.
Patients can enter the practice via the street entrance on Restwell Street, or internally via the Bankstown Sports Club.
Close to transport: We are conveniently located close to transport, just 300m to Bankstown train station/bus interchange and approximately 600m to Bankstown Central Shopping Centre.
Parking: Secure parking is FREE for patients and is available within the Bankstown Sports Club basement carpark, directly below the Flinders Centre.
For the most convenient access, enter via the Greenfield Parade entrance and park on either the light blue or green levels.